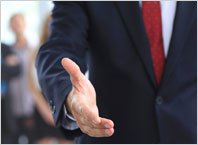 M-TEK training center established in 2008 Our technical training wing 'M-tek' offers tecninical training for different types of hi-tech industrial machines & CNC programming training for the most advanced machine tool manufacturers in the world such as Trumpf, Messer etc.
M-TEK institute today is ready to serve our local and regional customers, by offering them the programming training for the most advanced CAD/ CAM software worldwide by both English and Arabic languages, with same quality and value offered abroad. In fact, we believe that taking the programming courses in M-TeK is much useful and effective than taking it abroad! Since our plan is to offer the trainees the following extra services, which are impossible to get them abroad:
Support the trainees on actual after finishing their course.
Helping them to make the programs of the first few production work pieces.
Few numbers of trainees in each course, so that each trainee can get personal attention and care.
Moving to the next chapters during the course will be after assuring that all the trainees have fully understood and feels comfortable with the previous chapters.
We also install and set up new software on request.